Discover Norfolk On Our Walking Trails
Discover Norfolk and its hidden gems on our range of walking trails where you can immerse yourself in the heritage, culture and landscape of this wonderful county in East Anglia.
Why come and walk in Norfolk?
Well, Norfolk isn't just relatively flat, it's full of:

sleepy flintstone villages, Georgian villages and vibrant Victorian seaside towns
fascinating historical heritage in the form of impressive ruins
drainage mills, working windmills and lighthouses
grand stately homes
extremely diverse landscape
wildlife to rival any in the UK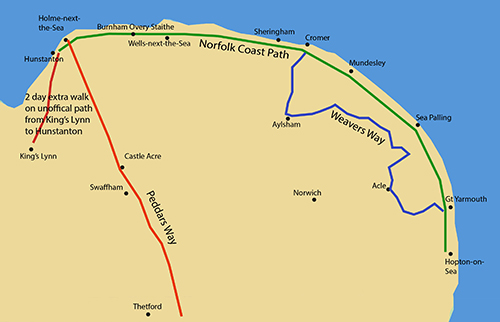 This is your chance to explore Norfolk on foot and enjoy some of the culture and heritage that make this county so special.

Discover Norfolk's Heritage And Culture
Towns and villages in Norfolk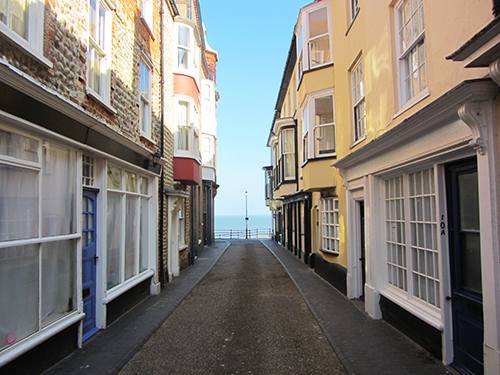 Cromer
Taking a walking holiday along any of our trails you'll discover parts of Norfolk you wouldn't otherwise see. 
You'll walk through some lovely quiet and very typical Norfolk flintstone villages and some very pretty Georgian villages and towns, as well as some more vibrant and busy Victorian seaside towns and working fishing ports.
NORFOLK COAST PATH 
PEDDARS WAY
Priory And Castle Ruins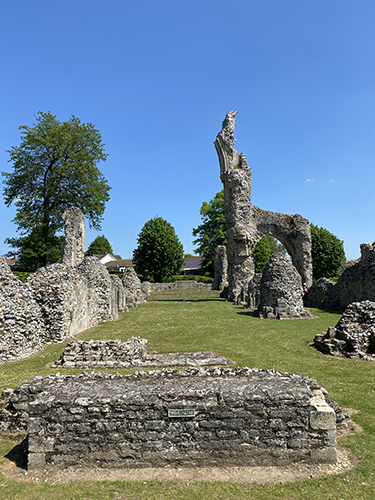 Norfolk has an extremely rich heritage when it comes to castle and priory ruins.

There are a number of fascinating historical ruins that you'll come across when you walk the Peddars Way which is an old Roman Road dating back to AD64 and forms part of the National Trail of the Peddars Way and Norfolk Coast Path.
Thetford Priory is one of the first ruins you could visit when you arrive at the start of your Peddars Way walk in Thetford. If you have the time, it's definitely worth taking an hour or two to walk to the Priory and wander around the peaceful ruins. It was one of the largest religious foundations in East Anglia
Castle Acre Priory ruins is also pretty impressive and can be viewed in Castle Acre. As you approach the village, you'll see in the distance the flintstone ruins of this priory, and again, if you had time, you could either pay to visit inside or just wander around the outside.
And whilst in Castle Acre, discover a bit more of Norfolk you didn't know existed - you could nip around the corner to visit the Castle, another motte and bailey ruin. The Bailey Gate is also another highlight as you walk up the narrow village street into the middle of the village.
Drainage Mills And Lighthouses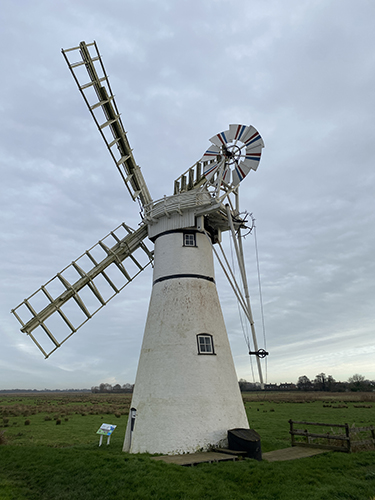 The sight of the drainage mills really sum up the Norfolk Broads and it's what everyone pictures when you think of the Broads landscape. At one point along the Weaver's Way, you'll see 7 all around you! This one above is Thurne Windmill and is one of the more unusual ones.
Some of these are derelict and some have been restored, usually with lottery funded money. Most of the drainage mills you'll see on our Broads walks are on the Weaver's Way, but you will also pass some pretty impressive ones along the Norfolk Coast Path as well.
One of the other iconic sights in Norfolk is Happisburgh Lighthouse, the striking red and white tower that stands out for miles around, looming on the horizon. 

Norfolk's Churches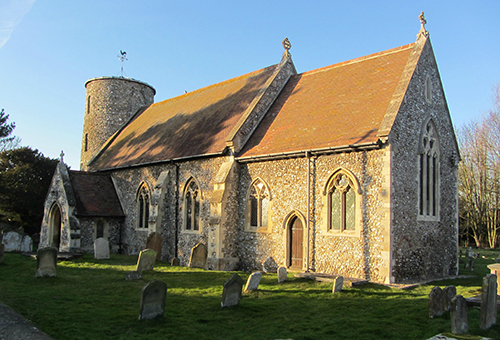 Norfolk has some really beautiful churches, and many can be found along the walking packages that we have on offer.
There are 124 round tower churches in Norfolk, some of which you can see, and it's always worth taking some time to go inside as they really are so peaceful and also incredibly small and unassuming. It's almost like looking at the world where time stood still.

Wildlife On Our Walking Packages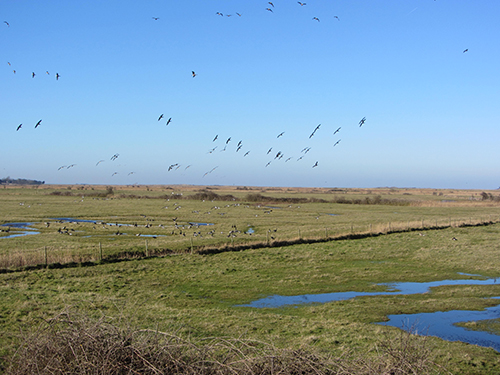 Brent geese coming in to land!
I find that if you like walking, generally you love wildlife.
And walking in Norfolk gives you the opportunity to discover some of the very best birdwatching in the UK.
You'll also be walking amongst many:
Sites of Special Scientific Interest, 
Nature Reserves
Areas of Outstanding Natural Beauty
reed beds
broads
saltmarshes and creeks
as well as the hedgerows along the more rural walks which often throw up some interesting bird life. 
There will be an abundance of wildlife on show.
The fantastic noise of the oyster catches and curlews is one of the many memories you'll take away with you from these holidays, and hopefully the honking of the Brent geese flying over you if you're particularly lucky!
To get an idea of which some of the nature reserves, saltmarshes, reed beds and creeks that you may be walking along, check out this page here on Norfolk's nature reserves.
Norfolk's Stately homes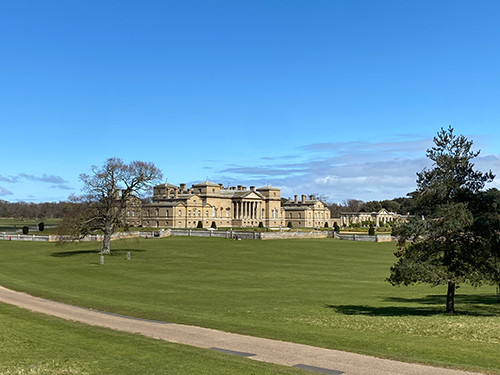 I think Norfolk has the highest number of stately homes open to the public in any county of the UK, and here's your chance to come and admire their history and architecture on some of our varied walking packages that include visiting these historical houses.

You can have the opportunity to see the following:
where the royalty reside for Christmas at Sandringham House
enjoy the parklands, grounds and impressive interiors of Felbrigg Hall
marvel at the splendour and opulence of Blickling Hall
or spend the day enjoying the estate of Holkham Hall. 
 All of these can be found on varying walks that we can organise for you.
To see details on some of these houses, click here to find out more about Norfolk's Stately Homes here.

I think you'll agree that Norfolk has so much to offer in the way of fascinating heritage, culture and landscape, why not treat yourself to a walk with a difference! 
Why not discover Norfolk's gems on some of our walks?
You can see all our available walks here.

CONTACT DETAILS:
Suzy Watson
+44 (0)7765 668188
suzy@norfolkwalkingholidays.com
Feel free to contact me and we can discuss further