Long Distance Walks In Norfolk
There are a number of wonderful long distance walks in Norfolk that we, at Norfolk Walking Holidays, can organise for you.
All are very varied and fascinating in their own special way.  Here you'll be able to discover what treats lie in wait for you when you choose one of these walking holidays!
This particular page is designed to give you a brief outline of our 4 long distance walks in Norfolk that we can organise for you.  
These are the trails you can take with Norfolk Walking Holidays:
As peace of mind, all of these walks are official trails and well waymarked.   
I've walked all of these trails and I find it very difficult to put into words how very different and wonderful they all are.   
You'll love the Norfolk Coast with the huge skies, but you'll also love the wide open low lying landscape and reedbeds of the Broads walk (the Broads walk also take you inland along disused railway lines and through lovely woodlands).  And the historic Peddars Way is an incredibly peaceful Roman Road that leads you slowly towards the North Norfolk coastline.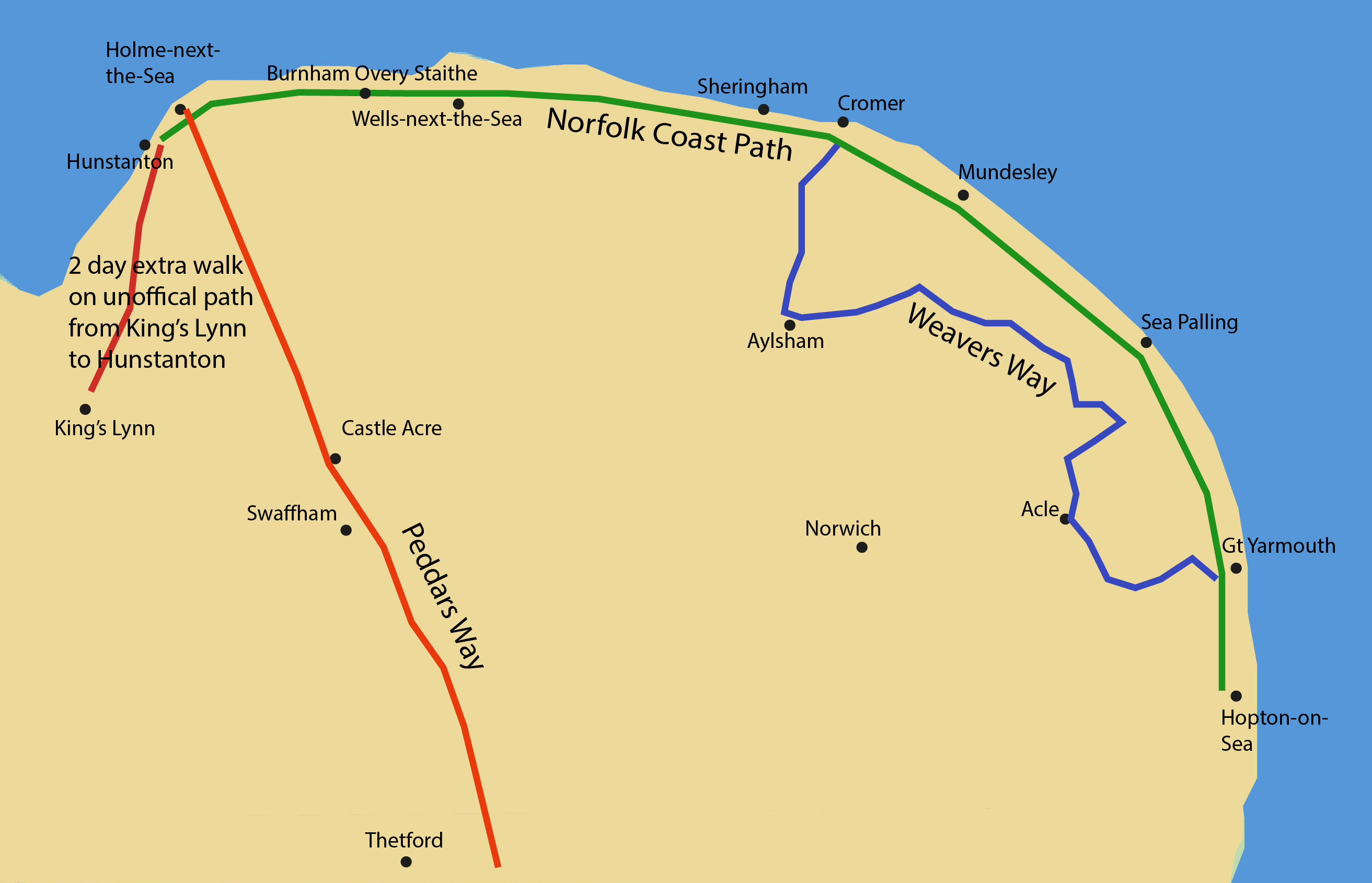 Long Distance Trails
There's something wonderful about walking long distance trails. It's an incredible experience. There is something special about taking a journey through the countryside in a way that can't be done by vehicle.
But mainly, I believe, your concentration narrows to one single purpose: walking. On a trail, your primary mission each day is to make it to the next destination along your route.
I love the fact that once you're at the end of the walk you're left with a real sense of accomplishment at what you've just achieved.  I don't know about you, but I get great satisfaction from remembering what I felt at the start of the walk to what I feel at the end, and all my thoughts in-between!  And I hope that's what you'll feel once you've walked in Norfolk.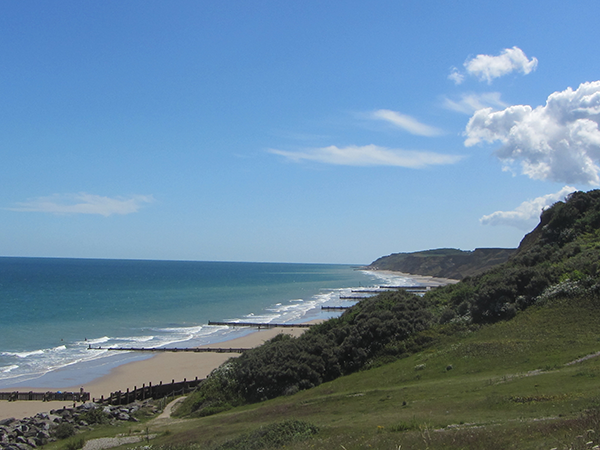 Norfolk is well-known for being a flat county with massive skies and huge swathes of golden beaches. This is very true!

But did you know that Norfolk's landscape also features many other aspects!
cliffs
woodlands
priory and castle ruins
Victorian towns and fishing towns
pretty flint stone villages
round tower churches and thatched churches
drainage mills and windmills
reed beds
some very impressive stately homes
an abundance of wildlife
WWII relics
You can experience all or some of these on our long distance walking trails, (although it does obviously depend on which walk you choose as to what you'll see)!
Our Norfolk's Long Distance Walks
The trails that Norfolk Walking Holidays can offer you are the following:
The most well-known long distance trail in Norfolk is the Norfolk Coast Path and The Peddars Way (which form one National Trail path), but you may not have heard that there is also one other long distance walk which only Norfolk Walking Holidays provide.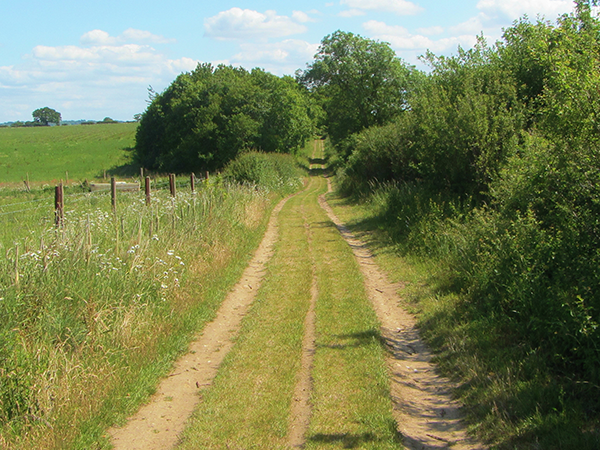 The Peddars Way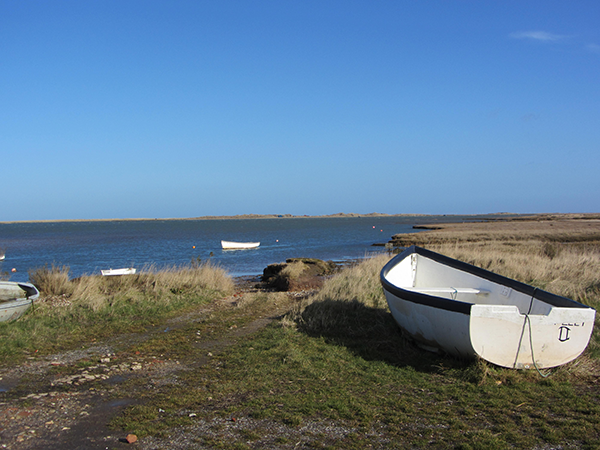 The Norfolk Coast Path
This wonderful Peddars Way and Norfolk Coast Path is one long distance trail in Norfolk and is classified as one of the 15 National Trails in the UK.  
Separately
The Peddars Way is 46 miles and the 
Norfolk Coast Path is 84 miles, 
so together they total one long distance trail of 130 miles.  
Now you may not want to walk 130 miles which is absolutely fine (!) and that's why it's good that you've come to this website! 
We can tailor the walk to suit your requirements; no distance or trail is set in stone.  
Some walkers just want to walk the Norfolk Coast Path as far as Cromer which is 46 miles
Others like to walk the whole distance 
Some choose to walk The Peddars Way and the Norfolk Coast Path as far as Cromer
or some just want to walk the Peddars Way to start with and come back another time to walk the Norfolk Coast Path.
Only you know your limits; all you need to do is let me know how far you like to walk and together we can work out a hassle free walking holiday. 
By putting the above two trails together, you have one very long distance walk in Norfolk of 130 miles.
For more information and options for walking this combined Peddars Way and Norfolk Coast Path, please click here.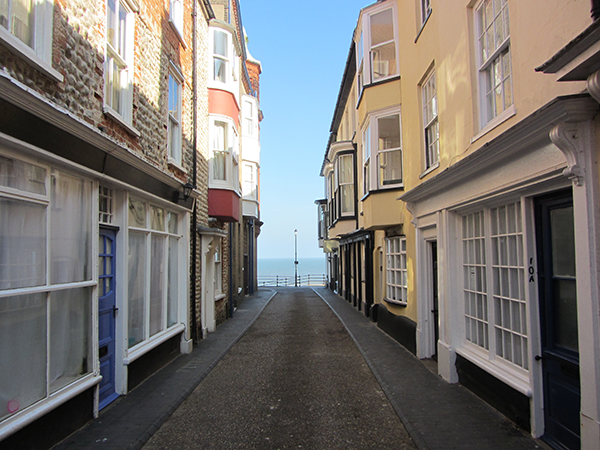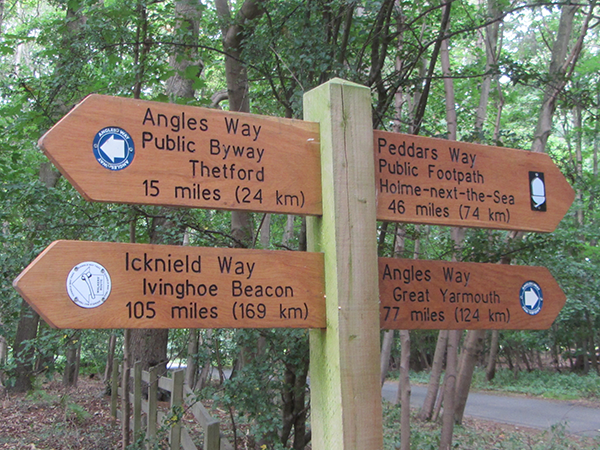 The Peddars Way long distance walk is 46 miles and begins in the middle of Norfolk in an area called The Brecklands in pretty woodlands.  You follow the path alongside heathland, into pretty flint stone villages (one particular village has an impressive priory ruin and castle ruin) and then onto arrow straight green lane tracks heading towards the coast where it joins the Norfolk Coast Path at Holme-next-the-Sea.  
This trail is historic in that it follows an old Roman Road and is wonderfully peaceful.  The road was also used by Pilgrims to reach the coast and the religious center at Walsingham.  It was dubbed the Peddars Way around the 15th or 16th century in respect to the Pilgrims journeys.
I like to describe it as an incredibly peaceful and rural countryside walk until you get nearer the coast where the landscape changes.
Here you can read about all the details you'll need to take this Peddars Way walking holiday.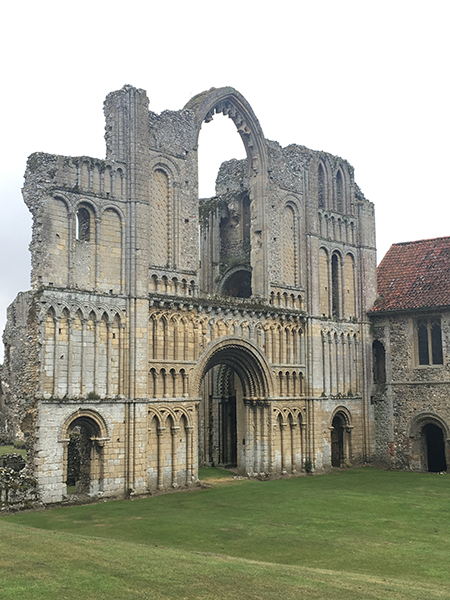 Castle Acre Priory ruins
You may wish to see for yourself just how beautiful the Norfolk coastline really is.  It's like an ever changing timeline.
It starts 3 miles to the west of Holme-next-the-Sea (where the Peddars Way finishes) in a town called Hunstanton, and you follow the stunning coastline all the way around the Norfolk coast to the border with Suffolk, ending at Hopton-on-Sea (unless you decide to stop at Cromer).  Between Hunstanton and Hopton, you ramble through nature reserves and salt marshes, alongside water meadows and creeks full of amazing wildlife.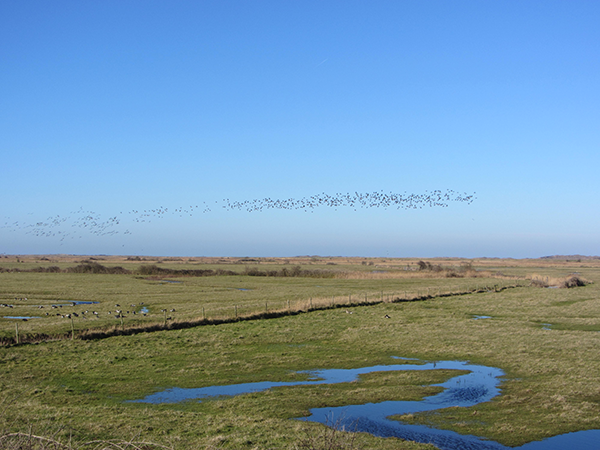 You skirt around the striking Holkham Hall, a grand Palladian architectural stately home (you could stop and have a rest day here – that's what's great about Norfolk Walking Holidays) and walk through fishing villages and towns. You really get a feel for this wonderful coastal, and in some cases, barren landscape. You may even get to see the seals at Horsey beach!  Now that is a treat! 
All of these trails are managed extremely well by Norfolk County Council's Norfolk Trails department and well waymarked.
Click here to find out the Norfolk Coast Path options and to read more about this walk.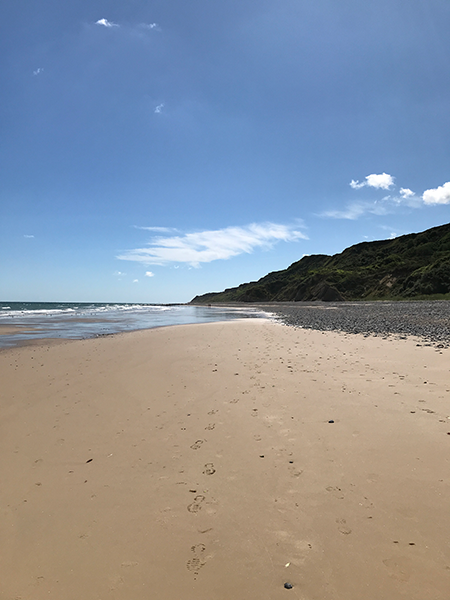 ---
The Other Norfolk Long Distance trails
But there's more to Norfolk that it's glorious coastline.  There is also some very pretty rural countryside with narrow disused railway lines and stately homes that pop up along the paths!  And not forgetting the extremely well-known Norfolk Broads. 
The Broads isn't just for boating!  It has some fabulous walking trails too; one of these walks below include walking in the Norfolk Broads and what better way to discover these than on foot?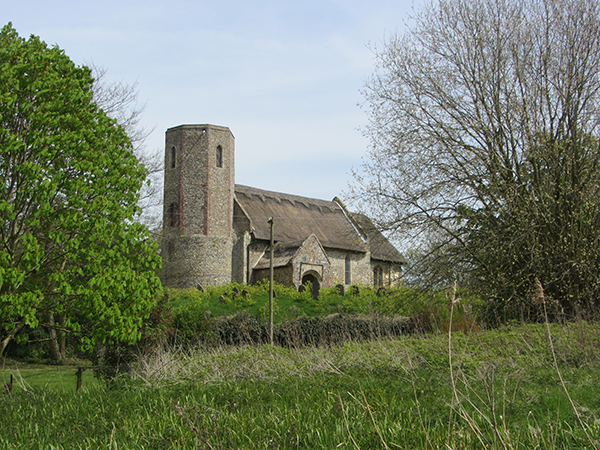 This is a long distance walking holiday that is new to 2021.   
The Weavers Way is 61 miles long and is so varied, it's wonderful.  You get a chance to visit two special National Trust properties and walk through their extensive grounds.  One is a Jacobean historic house called Felbrigg Hall.  The other is the stunning 15th Century Blickling Hall.  Both of these are very different properties, and the Weaver's Way leads you right through their parkland.  
It is a fantastic walk, but I must just let you know right now that you could come across cattle in a couple of fields (one day 1 and the last day).  Generally they are no where near you, but a gentle arm lift to move them away usually does the trick.  So if you are averse to cattle, then I'm afraid this walk probably isn't for you, lovely and amazing though it is.
However, there is another option if you like the sound of passing by two impressive stately homes and 2 disused railway lines.  You can then cut across country and join a couple of stretches of the Norfolk Coast Path - just either ring or email me and we can discuss these other options.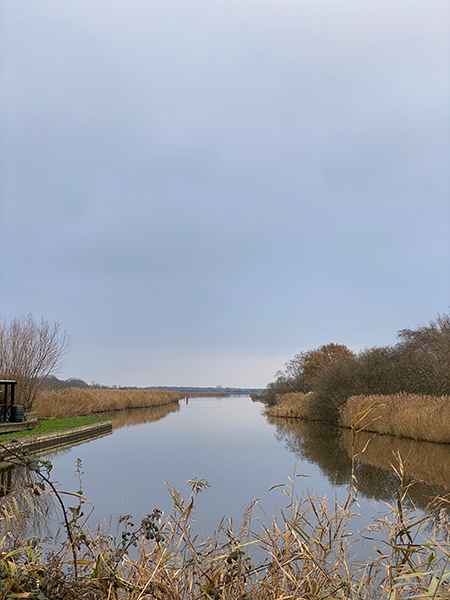 You'll walk through some quintessentially quiet and sleepy villages and pass some truly magnificent Georgian houses.  You also come across a number of round tower churches and walk along the old track bed of a disused railway, lighting upon a couple of platforms too!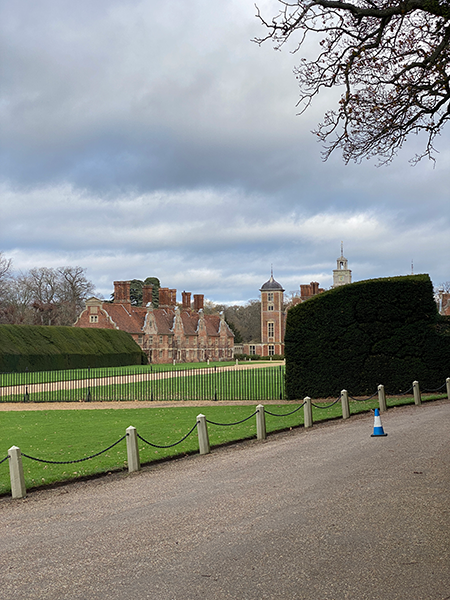 As you begin to reach the Norfolk Broads the landscape changes dramatically; the churches and wooded landscape disappear and you discover drainage mills and canals and massive reedbeds and water meadows.  It's such a contrast from the beginning of the walk, which is why I love it so much.
You can read more details about walking the Weavers Way here.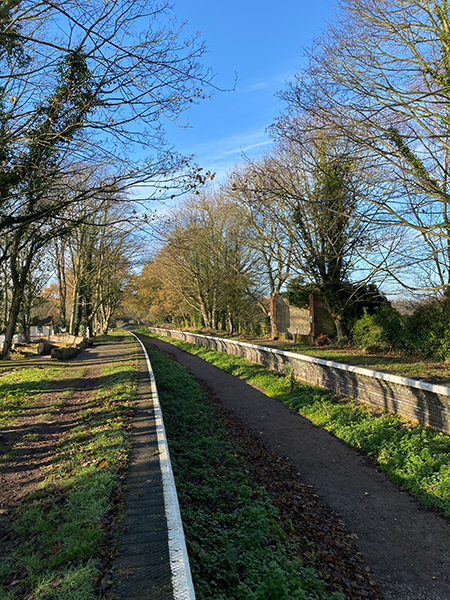 ---
These long distance walking trails in Norfolk are a real treat.  They are all easy graded and if you've walked some of the other long distance walks in the UK, then you'll enjoy this completely different experience. 
As I've mentioned already, it's important to remember that all of these walks are official walks which are well waymarked and also marked on the OS maps.  

The walking is more relaxed, the pace of life is slow in Norfolk and you'll be able to enjoy the surrounding countryside and coast and local well renowned seafood (if you like seafood!) at a speed that requires you to appreciate your surroundings.
Or I can tailor-make a walk for you which I have done on numerous occasions - you may want to see more wildlife or maybe visit more historical houses - just ask and we can chat through what you would like!
All you need to do is decide which walk you'd like to take and we will then work out the length you prefer to walk each day.  Leave the rest to me until you arrival here in Norfolk!
So now you can read up about each of these long distance walks individually, or contact me on the details below:
CONTACT DETAILS:
Suzy Watson
+44 (0)7765 668188
suzy@norfolkwalkingholidays.com
Feel free to contact me and we can discuss further