Norfolk Walking Holidays
Take a walk through Norfolk's history at your own pace
Since 2014, Norfolk Walking Holidays has been delighting visitors with walking holidays on the Norfolk Coast Path and the historic trail of the Peddars Way, as well as one other fascinating and varied long distance trail. 
I offer self-guided walks that allow you to explore all the beauty Norfolk has to offer with a personal touch.
Norfolk has so much to offer in the way of:
heritage, with its castle ruins and round tower churches

splendour and grandeur with its stately homes

stunning and unique coastal scenery

quiet and peaceful countryside and historic trails

chalk streams and ancient woodlands

windmills and drainage mills in the Norfolk Broads
exceptional local seafood, beers and cheeses
With Norfolk Walking Holidays, you'll receive a local experience, and create memories that last a lifetime
I offer the following walks for you to choose from (or we can organise something a little bit more bespoke):
Whether you are local to the UK or travelling from overseas, I will make your holiday worry-free, personal and convenient. 
You may be an experienced walker who would like something a little less energetic.
Or perhaps you're a solo or beginner walker.
You may even be a group of friends who would like to take a break together.
Norfolk Walking Holidays will find a walk that it suitable for you.

Put on your walking shoes, and follow me into the history of Norfolk.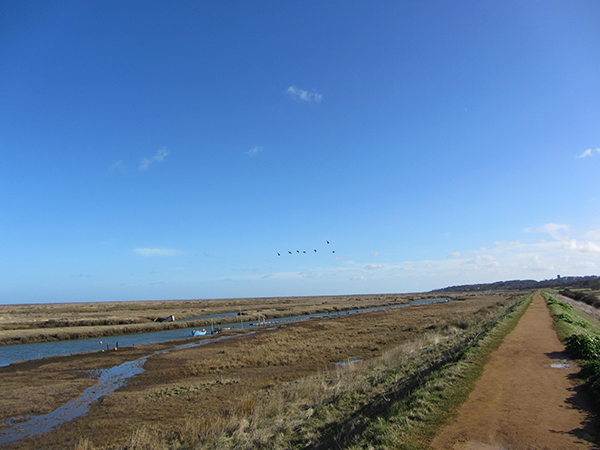 What you can expect to see on my walking holidays

I offer walks along the Norfolk Coast Path and the Peddars Way which is one of the 15 National Trails in the UK, as well as one other long distance trail in the Broads.
One thing to note, Norfolk doesn't offer steep or difficult terrain (apart from one small stretch on the Norfolk Coast Path!), but I'll tell you exactly where this is and the alternatives if you want them! 
GREAT for those of you wanting a less energetic walking holiday, or maybe even if you're new to walking.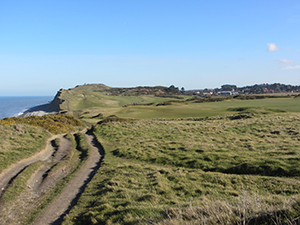 The Peddars Way has a long and celebrated history. You'll walk in the footsteps of the Romans as they built and used the road to police rebellions in the territory around 61AD. 

Along the path you'll find a peaceful and historically rich landscape. Wildlife, pine forests, villages, quiet country lanes and open countryside. As the road was built by the Romans, you will find long, straight stretches of road where you can enjoy the solitude or imagine the historic significance of the road beneath your feet. 
Click over to the Long Distance Walks page to read more on our walks.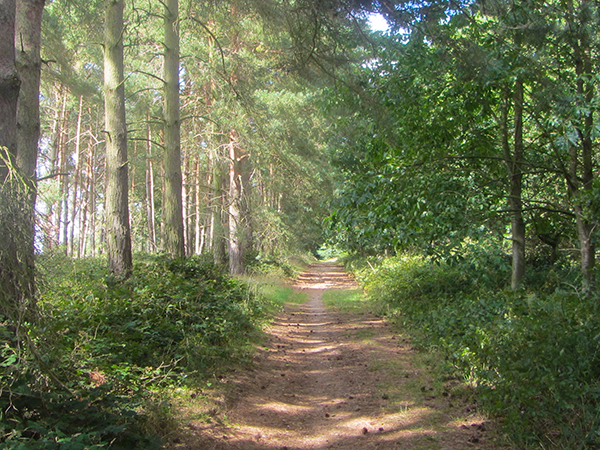 The Peddars Way
The Norfolk Coast Path is breathtakingly beautiful. An endless sky above you and the sand dunes and beaches beneath your feet guide the way. You'll find national nature reserves, salt marshes, cliffs, and lovely and welcoming coastal villages and Victorian towns. There is so much to see and experience in every direction you'll welcome a brief respite to take plenty of photographs, take in all the scenery and relax in some of the lovely villages and towns along the way.
Check out our long distance walks here.
The Norfolk Coast Path
The Weavers Way is one of the new Norfolk walking holidays that is a completely varied and fascinating walk which starts on the Norfolk Coast at Cromer and ends up at Gt Yarmouth.  However, in between these two Norfolk towns you walk through the beautiful parklands of two historic stately homes, along an old disused railway line which has two wonderfully well kept platforms, woodland and into another part of the Norfolk Broads.  A few historic round tower churches appear right on the path and eventually the landscape changes dramatically to the flat meadows and dykes of the Broads.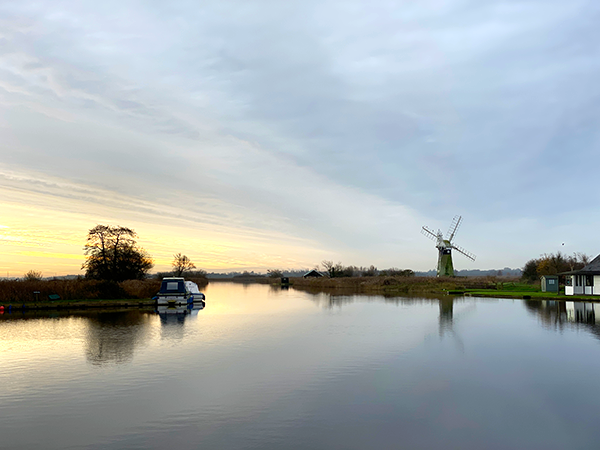 The Weavers Way
Why Norfolk Walking Holidays is your best choice

Being a resident in Norfolk, as well as living close to the Peddars Way specifically, I really do immerse myself in the landscape and culture of Norfolk. My experiences of living here give you an advantage you won't find with any other walking company.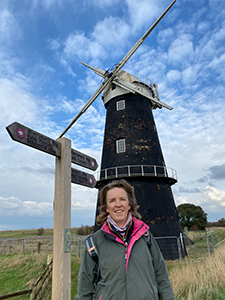 Me, Suzy Watson!
Knowing the history, the environment and the best sights to see is something I consider a privilege, because I am able to share it with you. 

As a local, knowing and hearing how much you've enjoyed your visit is the most wonderful part of organising these Norfolk walking holidays for me.
Come and share this beautiful experience with
a friend
a loved one
your family or 
with a group
You'll receive the most comprehensive and natural experience of any Norfolk walking holiday available. 
I pride myself on making this a personal and local experience that you cannot find anywhere else.
Walk at your own pace, stop and enjoy the view, villages and wildlife, and be ready to take as many photographs as you please to capture the memories you'll make here. Although I doubt you'll ever forget them!
What you can expect from my services

Personal attention to your booking – I take care of everything
The best accommodations available
Personal knowledge of the area, sights and attractions only locals would know
Familiarity with the trails as I walk them myself regularly
Paths that are of an easy grade and suitable for walkers of any level
Someone who lives here and is available if you need assistance
Perfect for visitors who want a break to get outdoors for a walk on the landscape
Excellent directions and maps
Walks that meet your timeline
Flexibility as we design your walk around your personal desires
What you need to do Now
All you need to do now is to decide which walk you would like to take!
Have a look in more detail about each of these walks that I can organise for you.  Remember that nothing is set in stone on these walking packages and we can always discuss  your requirements. It's important that you have the walk you want.
Long Distance Walks (includes the Norfolk Coast Path and the Peddars Way and the Weaver's Way).
---
Oct 09, 23 10:58 AM

The Norfolk Coast Path is undeniably beautiful and makes for a fantastic self-guided walking holiday. We specialise in organising Norfolk walking holidays

Oct 02, 23 10:15 AM

Peddars Way self-guided Norfolk walking holiday leads you on an old Roman Road bound in history. Enjoy the journey of rural countryside and dead straight tracks

Oct 02, 23 10:10 AM

Testimonials for Norfolk Walking Holidays. Over the years I've had many excellent testimonials which help other walkers decide on the best company to use
CONTACT DETAILS:
Suzy Watson
+44 (0)7765 668188
suzy@norfolkwalkingholidays.com
Feel free to contact me and we can discuss further