Peddars Way & Norfolk Coast Path Walk
The Peddars Way and Norfolk Coast Path Walking Holiday

The combined Peddars Way and Norfolk Coast Path walking holiday is a unique long distance trail through diverse, historic and stunning coastal landscape.
It's one of 15 UK National trails that combine two totally different long distance paths in Norfolk.  
The first, The Peddars Way, is the historic and peaceful walk along an old Roman road which starts in woodland near Thetford and takes you along farm tracks, arrow straight paths, through quiet country villages and ending up at the coast, all the while enjoying the peace of the British countryside.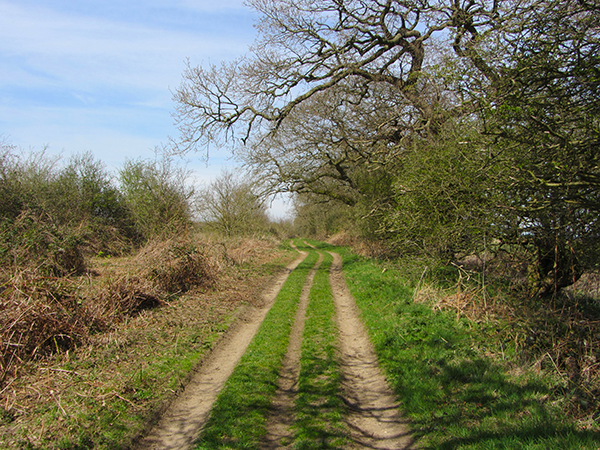 The second, the Norfolk Coast Path, is a complete contrast to the Peddars Way.  It's one of diverse Norfolk coastal scenery ranging from salt marshes and water meadows to golden beaches and cliff tops as well as bustling coastal seaside towns.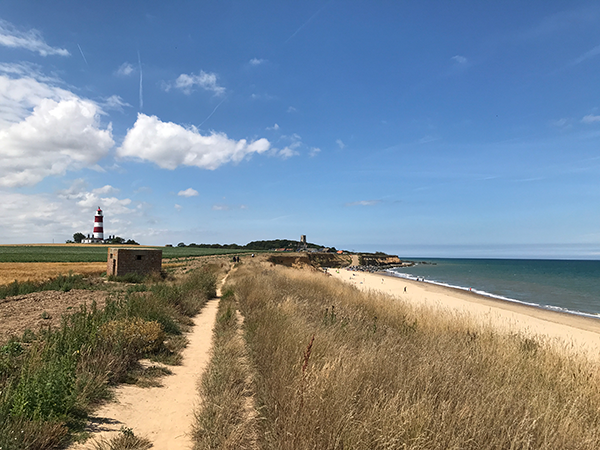 The Peddars Way and Norfolk Coast Path Distances

The whole of this trail is 130 miles.  Some love to walk the whole distance, but for others that may be too far.  
At Norfolk Walking Holidays we have two options for this particular walk. 
One is finishing in Cromer which is where the original Norfolk Coast Path ended, and would be 93 miles
The other option is to finish at Hopton-on-Sea, which is now the end of the Norfolk Coast Path and is the full 130 miles.  
"I must thank you for the beautiful trip and the lovely and wonderful holiday I had thanks to you! From the first moment we were in contact I felt I had found the right person to help me plan what I had in mind."
Map of the Peddars Way and Norfolk Coast Path

Below is the map of the whole of the Peddars Way and Norfolk Coast Path walking holiday.  It shows you exactly why you'll get such a diverse range of scenery as you literally cut through Norfolk and then continue along the whole of the Norfolk coastline.  
Don't forget, you can stop at Cromer should you wish, or anywhere else for that matter.  We can chat about a bespoke Norfolk walking holiday for whatever requirement you have.  You can see the varying options available to walk this trail here.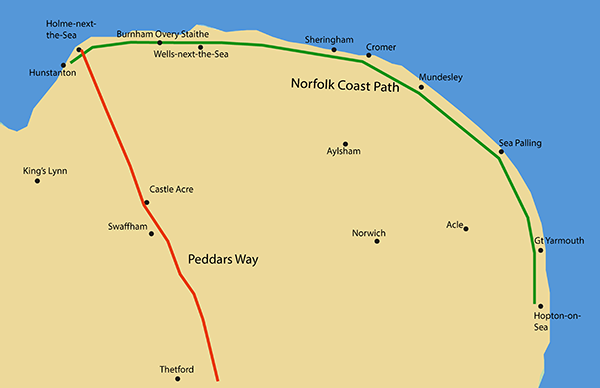 ---
Peddars Way and Norfolk Coast Path Options to Cromer
6 day walk to Cromer
7 day walk to Cromer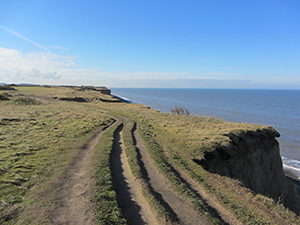 ---
8 day walk to Cromer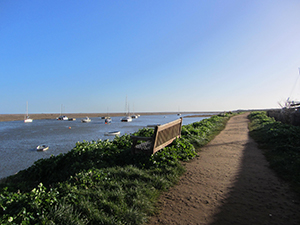 10 day walk to Cromer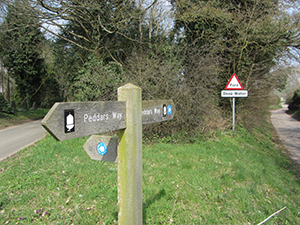 ---
---
Peddars Way and Norfolk Coast Path to Hopton
9 day walk to Hopton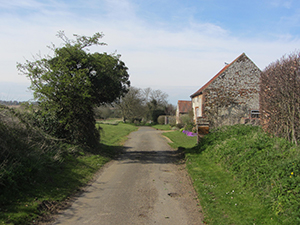 11 day walk to Hopton
---
CONTACT DETAILS:
Suzy Watson
+44 (0)7765 668188
suzy@norfolkwalkingholidays.com
Feel free to contact me and we can discuss further
Why walk both of these trails?

Walking both of these trails will give you a huge sense of satisfaction, especially when you think back on your holiday and remember the completely varied landscape and wildlife that you will have walked along and seen.  
Many walks have the same terrain throughout the trail, but here in Norfolk you'll experience some very different scenery as you meander your way from the depths of the Mid Norfolk woodlands, up to the North Norfolk coast and around, to finally finish on the beach at the border of Norfolk and Suffolk.   
"We always try and use local companies, so that's why we used you.  It was a very well designed package for us with lots of information and detail. Given the unusual circumstances, it was very re-assuring to have you on the end of the phone when needed.  We are all very pleased with what you did for us and we wouldn't hesitate to recommend you.  Thank you."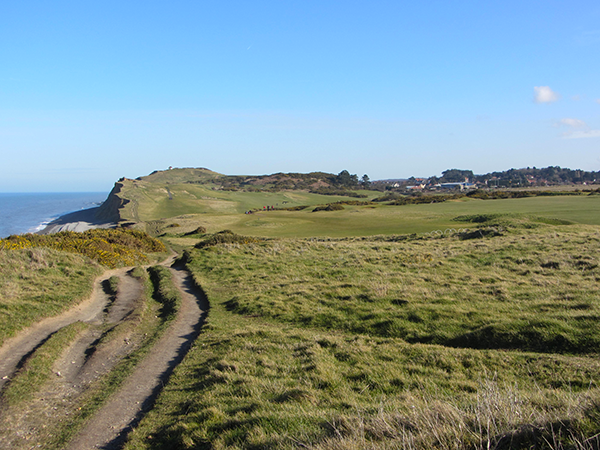 This Peddars Way and Norfolk Coast Path trail is very underrated, (and I may be sticking my neck out here!), but I think that's because many walkers imagine it to be boring flat landscape.  Just read the testimonials here to see what others thought of the trail.
"Suzy, thank you so much for organising the Peddars Way and Norfolk Coast Path.  We all thoroughly enjoyed it - and loved it all!  The arrangements worked incredibly well, efficient baggage transfer and with excellent pubs and B&B's"
This is a walk that I hope you'll look back on and think "wow, that was very different and fascinating". 

I have written a walking blog about both of these paths, so if you would like to see what you'll experience on this trail, nip over to one of these links below.  They were my daily thoughts as I walked these paths. (Both of these links take you over to my sister site of Explore Norfolk UK).
What you'll see on this National Trail

In case you haven't read my other pages on the individual trails of the Peddars Way and the Norfolk Coast Path,  walks which you can also take with Norfolk Walking Holidays, here is a short summary of what you can expect to see on this wonderful long distance trail.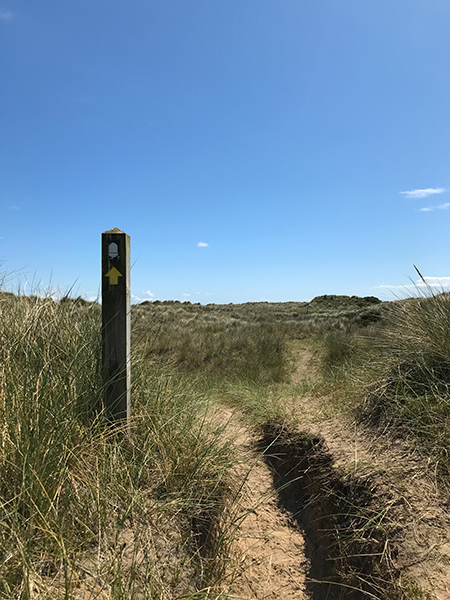 The Peddars Way

On the first stretch of this National Trail, you'll pass the amazing Castle Acre Priory ruin which dates back to the 1089.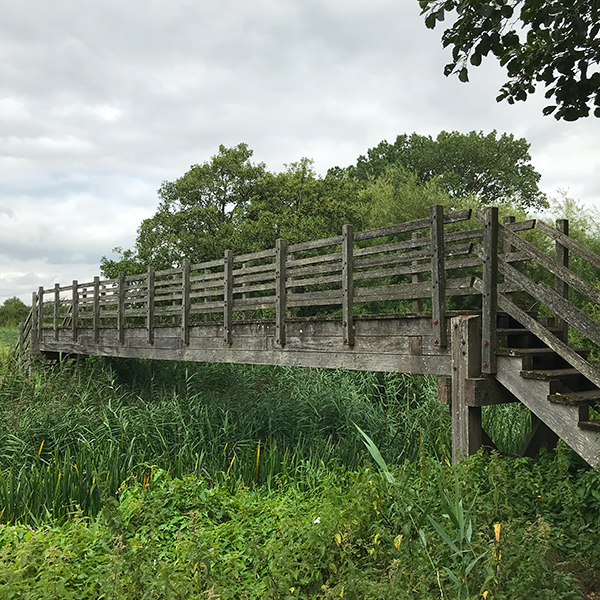 If you have time, you could always visit the interior, as well as nipping along to the castle ruins, also in the village.  If you don't have time, there is a small path around the priory ruins which means you can look in awe at the architecture of the ruin and then head back to the tea room for a quick cup of tea!
You'll also get a chance to wander slightly off the path and walk around some Ice Age Pingo ponds or sit in a bird hide and admire the man-made mere and surrounding wildlife.
More history on the path takes the form of three ancient burial grounds which are grassy mounds on the edge of the Houghton estate.  And you walk through a few quiet flintstone villages and along peaceful lanes.

One thing you won't see on the Peddars Way, but you will really notice, is the peace and quiet along much of the walk.  
The Norfolk Coast Path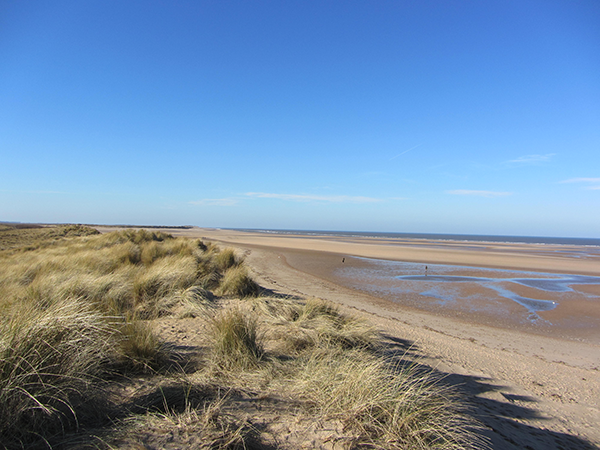 Along the Norfolk Coast Path, which has completely contrasting landscape, you'll spend time on some of the many varying stretches of our wonderful Norfolk beaches where you'll see why everyone says Norfolk has huge skies!  I say "varying" because the Norfolk beaches do differ hugely.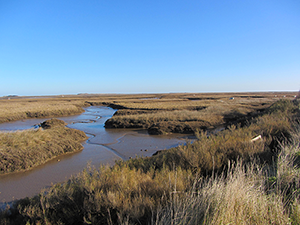 The tide goes out for miles on the North Norfolk Coast and you'll be lucky if you can reach the sea (but the photo opportunities are amazing!), whereas on the east coast, the sea is always much closer to you, and the landscape appears more rugged in places (my personal opinion!).
You'll discover salt marshes that have silted up over years and now prevent some of the "slightly inland" villages remaining as important ports.  And as you wander up the creeks amongst the salt marshes, you should spot, or hear, varying wading birds.  
The path takes you along sea walls which prevent the sea from spilling over into fresh water meadows, grazed by cattle and frequented by incredible wildlife.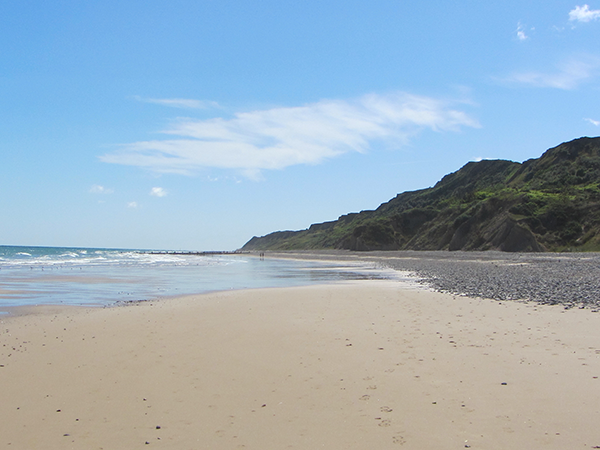 This landscape then gives way to cliffs.  Yes, we have cliffs in Norfolk!  Many of these are actually in danger of coastal erosion, but you'll be walking along the tops of these, with wonderful views of never-ending beaches and groynes. 
I hope that gives you a tiny insight into what awaits you on this fantastic long distance trail! 
"The Itinerary that you prepared was excellent and I was able to follow each portion of your clear guidelines. I enjoyed every part of the walk.
Passing through the villages, observing building styles and materials.  Wells beach, with its little huts and sandy beach was very popular, quite a few people were waist deep in the water, but no further out. I don't blame them. The water was much colder than along Sydney beaches! Great climb up Beeston bump. It certainly was part of an important history. The shingle beaches and ridges on the last day were a great challenge. Interesting to see the remnants of WW2 defences.
I don't believe you can compare this walk to any other walks.  I think it's unique in its landscape and wildlife, and I really hope that you might decide to explore Norfolk on the Peddars Way and Norfolk Coast Path walking trail.
Feel free to contact me with any queries you may have
or fill in the booking form via the "book now" buttons in the options above, and we can start the process of organising a memorable walking holiday for you now!
CONTACT DETAILS:
Suzy Watson
+44 (0)7765 668188
suzy@norfolkwalkingholidays.com
Feel free to contact me and we can discuss further