Town & Villages Along the Norfolk Coast Path
Towns and Villages Along The Norfolk Coast Path
The Norfolk Coast Path is a stunning stretch of coast in East Anglia, England. Walking this path is a great way to explore the unique beauty and culture of the area, as it winds its way through some of the most picturesque villages and towns in the country.
Along the way you'll find a wealth of historical monuments, beautiful beaches, and scenic views, as well as some delicious seafood! Each of these towns and villages along the Norfolk Coast Path have their own distinct character and charm.
Continue reading below to discover a brief outline of the towns and villages you'll see on your Norfolk Walking Holiday.
HUNSTANTON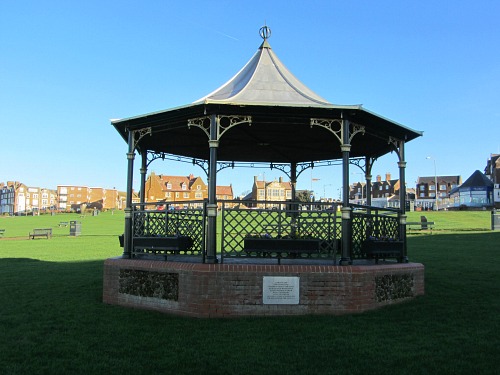 Hunstanton is a bustling seaside town located on the west of Norfolk, and is at the start of the Norfolk Coast Path.
It's situated on the picturesque three tiered cliffs, overlooking the North Sea. It's definitely a popular tourist destination, with its beach and promenade, cafés, delis and pubs. Hunstanton is also known for its stunning sunsets which you may be lucky to catch if you have one of those lovely sun filled days!  The town is also known as "Sunny Hunny".

HOLME-NEXT-THE-SEA
Although you won't go into the village, Holme-next-the-Sea is where the Peddars Way meets the Norfolk Coast Path.  You will, however, walk right past the Holme Dunes Nature Reserve where you could drop in for a cup of tea and a bit of wildlife information. You will also hopefully catch a glimpse of some lovely wildlife along the board walk and path adjacent to Holme and Thornham beaches.

THORNHAM
Thornham is a charming little village on the North Norfolk coast. One of the highlights of Thornham is the stunning views as you approach the Old Coal Shed along the Norfolk Coast Path.
There's a lovely deli serving up delicious homemade dishes, including local seafood and vegetarian options, along with lots of unique gifts and souvenirs in the shop. There are also 2 pubs, The Lifeboat Inn and The Orange Tree. 

BRANCASTER, BRANCASTER STAITHE AND BURNHAM DEEPDALE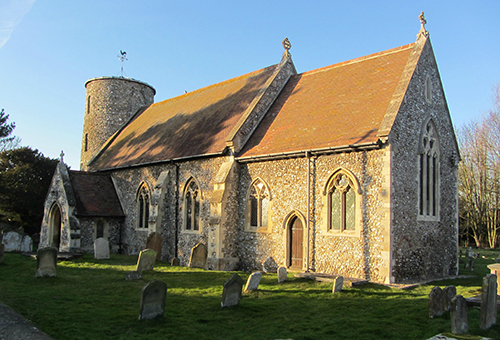 Brancaster is another flint stone village that you will have the pleasure of walking through. This has a pub called The Ship (you may well be staying here).
The three villages of Brancaster, Brancaster Staithe and Burnham Deepdale all run into one another and it's difficult to know where one stops and the other starts.
Brancaster Staithe has 2 pubs, The Jolly Sailors and The White Horse (this one looks right over the marshes). It also has a staithe (along with a Crab Hut selling things like crab baguettes) which you'll walk through as you walk along the Norfolk Coast Path.
There is a lovely round tower church at Burnham Deepdale called St Mary's (one of 124 round tower churches) which is worth coming off the path along the Drove Road to visit. There's are also a few independent shops and café in Burnham Deepdale.

BURNHAM OVERY STAITHE
This is another quite village along with a harbour. It's very busy in the summer months, when the tide is high, with people enjoying their boats, but the activity around the harbour is lovely to watch. Why not take a moment on one of the many benches?  There's a pub in the village called The Hero which is a great stopping off point along the path, as well as an ice cream ban near the harbour.

HOLKHAM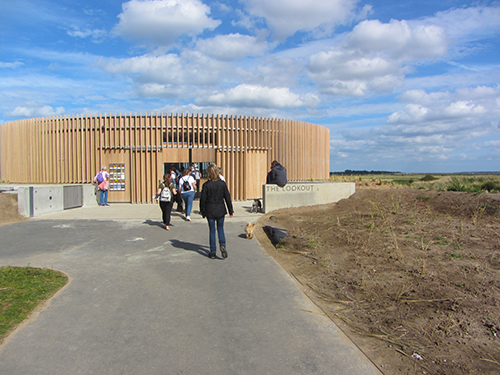 Well known for it's impressive Palladian Mansion of Holkham Hall. The Norfolk Coast Path skirts the tiny village, but if you took a rest day on your walking holiday, you could spend the day visiting the vast grounds, walled garden and house. The path does walk alongside the Holkham Nature Reserve and right past the Lookout Cafe and observation piont.

WELLS-NEXT-THE-SEA
This is another bustling town which is still a working fishing port.
There are numerous pubs, delis, independent shops and fish and chip shops!
The Buttlands is a small area just away from the busy main streets surrounded by Georgian houses and 2 pubs.  This is a place you could stay at depending on your budget!
Spending time sitting on the harbour wall watching the world go by can be quite fun.

STIFFKEY
This is another small village which you bypass on the Norfolk Coast Path, but you can always walk inland for about 20 minutes and enjoy a meal at The Red Lion pub.
This area is where you'll be walking at the same level as the salt marshes and creeks.  If you're really "Norfolk" you pronounce this as "Stoo-key".

MORSTON
Another busy quay where you can catch the boat trips out to see the seals at Blakeney Point if the tide times work with your walk.
Like Blakeney and Cley, it used to be a major port, but overtime the creeks have silted up so only small boats can enter now. Morston village is about a 5 minute walk from the quay.

BLAKENEY
A very well known and popular village, Blakeney has a lovely picturesque quay. It's situated in an Area of Outstanding Natural Beauty (AONB).
It also used to be a busy seaport, but now only small boats enter the quay. It has an 18th century coaching inn called the King's Arms, an Adnams pub called The White Horse, a luxury B&B and a hotel along with a few independent shops along the High Street.
If you have the time, you can walk up to the top of St Nicholas's church tower where you'll have amazing 360 degree views over the Norfolk Coast and countryside. Depending on the mileage you walk, you may well just walk straight through the village and carry on to Cley.

CLEY
Cley used to be another important sea port but again badly silted up. Recently the creeks just by the village have been dredged meaning boats can get much closer to the village than previously.
Cley has some wonderful architecture, lovely flint stone houses and some with Dutch gables. It was a place where many Flemish traders came.
It has one pub called The Three Swallows, two B&B's and one restaurant along with a deli, smokehouse and a couple of galleries. The beach at Cley is pebbles and can be quite tiring to walk along. Cley is also home to one of the best bird watching sites in the UK, Cley Marshes Nature Reserve.
Pronounced "Cl"eye"
WEYBOURNE
You bypass the village of Weyboure, but this is where you now walk on the clifftops until you reach Cromer.
The Muckleburgh Collection (a fascinating military museum) is located on the edge of Weyboure. You can always catch the bus from Cley to Weybourne if you don't fancy 4 miles of shingle beach walking. There is a pub and a tearoom/shop in the village

SHERINGHAM
A very busy Victorian seaside town with a long promenade and lots of pubs, cafes and shops.
It is also home to the North Norfolk Railway from which you can take a stream train to Holt and back again. It's generally one place you actually walk right through. It's a very popular tourist destination.
Just the other side of Sheringham is Beeston Bump (along the Norfolk Coast Path) and this is one of the highest places in Norfolk. It used to be the site of a WWII wireless listening station. The views from the top are amazing.

CROMER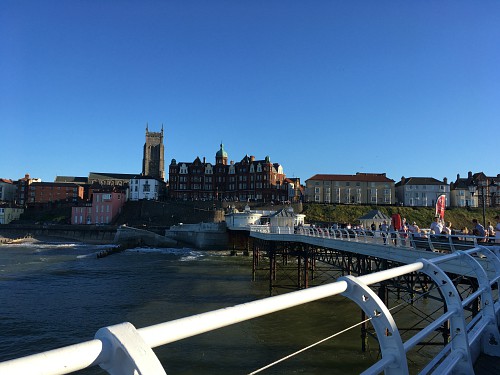 Another Victorian seaside town! This is definitely where you'll be stopping on the Norfolk Coast Path. There are lots of places to eat and shop.
There is also Cromer Pier, a lovely place to wander along and maybe even watch the sun set. Cromer is famous for its Cromer Crab which are caught off the Cromer chalk reefs, which are well known for their sweet meat.

MUNDESLEY
The village is located on the top of the cliff tops and has one of the smallest museums located in the coastal watch tower overlooking the sea. It has a long promenade which forms part of the Norfolk Coast Path, with some brightly coloured beach huts. There is one pub called The Ship Inn and a few other shops in the middle of the village.

HAPPISBURGH
Most well known for its very rapid coastal erosion and its prominent red and white lighthouse which you'll walk right past.
There is a pub in the village called Hill House Inn which you may well stay in.

SEA PALLING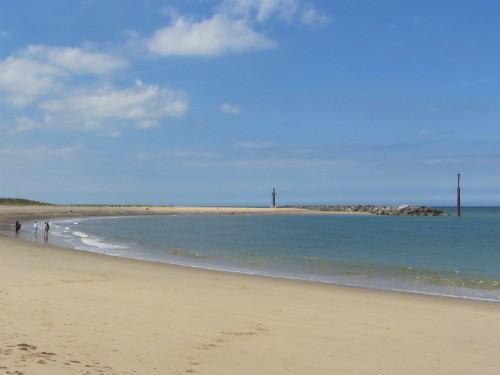 You approach Sea Palling along the beach heading towards its man-made reefs which are there to help coastal erosion. The sand around these reefs is beautifully white (almost tropical) and the water is incredibly calm. Possibly a nice place to stop and dip your feet in the sea!
It's a popular beach with a couple of ice cream and bucket and spade shops as well as a pub just over the ramp from the beach.

HORSEY
Horsey beach is most well known for the thousands of seals that come here to have their pups during the winter months. The Norfolk Coast Path takes you landward of the beach, behind the dunes, but if you pop up to the top around one of the viewing platforms, you may get to see some seals molting or just swimming in the sea.

WINTERTON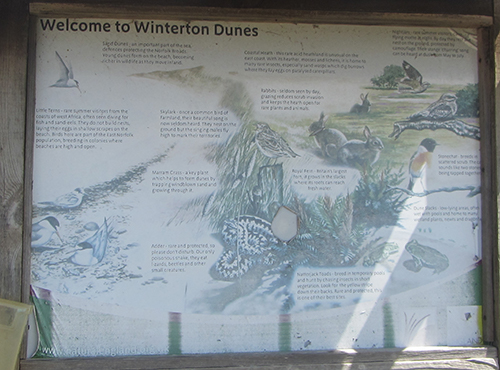 Heading towards Winterton, you walk through a Site of Special Scientific Interest (SSSI) in the dunes with natterjack toads and butterflies to name a couple. Winterton was an old fishing village and has a lovely beach and is also another place where you may well see the seals. There is a pub in the village called The Fisherman's Return, as well as a B&B.

CAISTER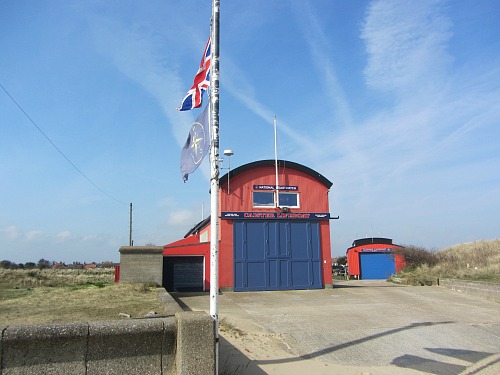 You won't see Caister unless you stay here for the night.  You do, however, walk right past the Lifeboat Station as well as a heritage museum.  Open on Sundays and Wednesdays for visitors.
There is a pub just set back from the coastal path called Never Turn Back.  This is often a good stopping point.
GREAT YARMOUTH
This is a very popular touristy destination, but it is somewhere you need to stay on your last night as there is no accommodation in Hopton. You will have already walked through the town to continue to the end of the coastal path.  There is a nice historic quarter by the river.
The accommodation chosen will look out over to the sea.
There is also a train station here.

GORLESTON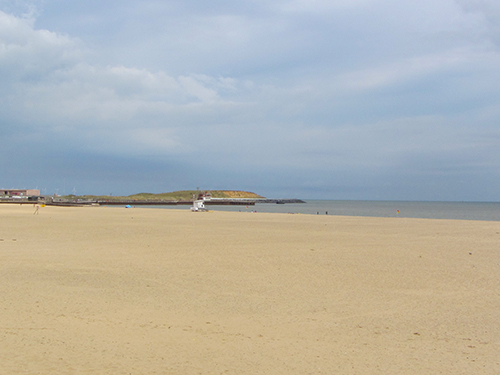 Gorleston beach is a lovely long sandy beach after walking through quite a bit of Great Yarmouth. There are some pretty Victorian shelters and then you are on beach pretty much all the way to Hopton. There are a few cafes and one hotel.
The village itself is above the cliff tops.

hOPTON
Hopton is where the Norfolk Coast Path officially ends.  And it is literally an end.  There is nothing to see in Hopton.  There are a couple of pubs, one of which you may stop and have a drink at as you wait for your taxi to take you back to Great Yarmouth for the night. 
---
If you're interested in finding out more about walking the Norfolk Coast Path, click over to the Norfolk Coast Path walking holiday page here where you can start the process of arranging your Norfolk walking holiday.
The office will be closed from 1ST FEBRUARY - 22ND FEBRUARY. If you would like to contact me about a walking holiday, please could you do so either before the 1st February or after 22nd February. I will be pleased to help.
If you happen to send an email during this time and before seeing this notice, I will respond on my return.
It may be too late and you may have booked elsewhere in the meantime (!), but if you are happy to wait, I will definitely come back to you after 22nd February.
CONTACT DETAILS:
Suzy Watson
+44 (0)7765 668188
suzy@norfolkwalkingholidays.com