Ice Age To Royalty Short Break Walking Holiday

This Ice Age to Royalty short break walking holiday gives you the opportunity to explore and stay in three different areas of Norfolk whilst discovering Norfolk's changing landscape and its rich heritage.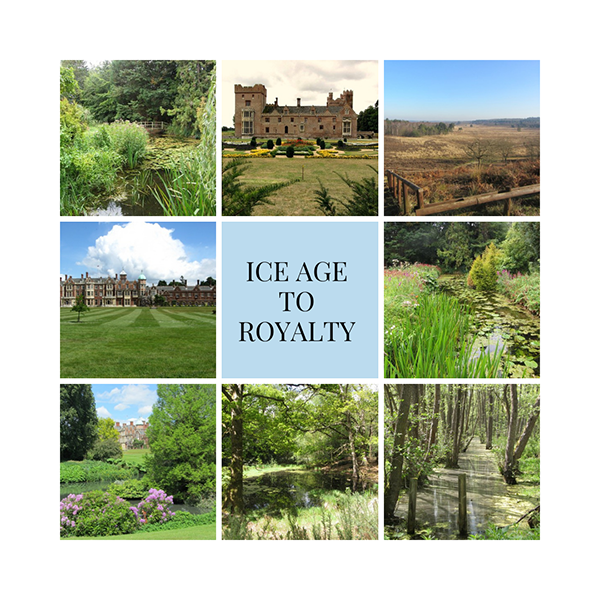 On this walk you'll discover:

Ice Age Pingo ponds and swamps, and possibly long horned cattle!
Oxburgh Hall, the impressive National Trust Tudor manor house of the Bedingfeld family with its stunning moat and fascinating interior
Restored water gardens in the adjacent village to Oxborough (should you wish to take a slightly longer walk than detailed)
Experience the intimacy of Sandringham House, a royal residence, and wander around the beautiful grounds and fascinating small church with a silver altar
Have a fabulous circular walk around the woods and neighbouring heathland in Sandringham and Wolferton
Spend a little time at the Wolferton Royal Station museum (time dependent)
Enjoy a luxurious night in a medieval house
Sample two old coaching inns
You can read more about what you'll discover further on down the page here.
You do need a car for this walk as you will be travelling from one location to another, and it just means you can be slightly more independent. 
This walk lets you explore the landscape around Mid Norfolk and West Norfolk, so a complete contrast to the coastal short break walking holidays of Sheringham, Wells and Cromer.
Summary of the Ice Age to Royalty walk

What you'll see on this short break walk

Pingo Ponds

On this Ice Age to Royalty walking holiday, you'll be following the Pingo Trail which is a wonderfully watery 8 mile circular walk (don't worry, walking boots will be fine!) as you discover Pingo ponds, formed during the melting of the Ice Age.  
This is a wetland area managed by the Norfolk Wildlife Trust and is well known for these historic Pingo Ponds.  They are quite intriguing, and dotted all about the walk.  This part of Norfolk is an area which has the highest density of Pingo Ponds, and these Pingos that remain are historically and ecologically important.  Many of the others have been ploughed up over the years, so that's why this walk is so fascinating and thoroughly enjoyable.
You'll also be walking along a stretch of the Peddars Way which gives way to pine forests, and along a quiet disused railway line surrounded by pretty woodlands.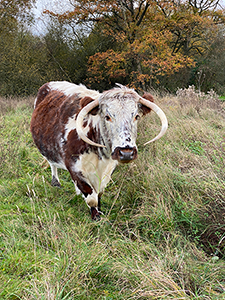 And you can't miss the magnificent swamp area with trees literally growing out of the water (a great photo opportunity), and again dating back to the Ice Age glaciers. 
You may well come across the long-horned cattle too!  Don't worry, they are docile enough to wander right through, they don't both you and are also fascinating to look at!  They are the perfect cattle for grazing this type of land.

Both the Sheringham and Cromer short break walks also feature historic landscape from the Ice Age, with walks taking you onto Cromer Ridge.
Oxburgh Hall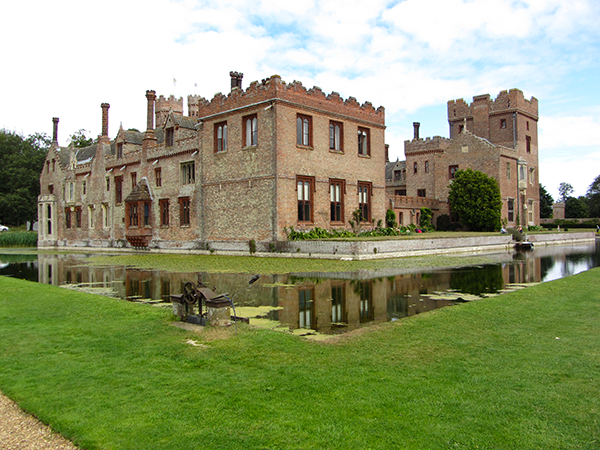 With this varied Ice Age to Royalty short break walking holiday, you'll be visiting the stunning Tudor Manor House  of Oxburgh Hall which has a very impressive moat all the way around it.
It's a stately home that has its own unique grandeur and is steeped in fascinating history which you can read more about here on my Explore Norfolk UK website. 
The building itself has wonderful turrets, as well as extremely tall Tudor chimneys, and some striking brick work.
The walled garden and parterre are beautiful, as is the chapel and the short woodland walk.  

Unfortunately, the grounds aren't extensive, hence the countryside walk I have planned for you around Oxborough and the neighbouring countryside, as well as a trip to see Gooderstone Water Gardens.   And yes, the village and the Hall are spelt differently! 
Water Gardens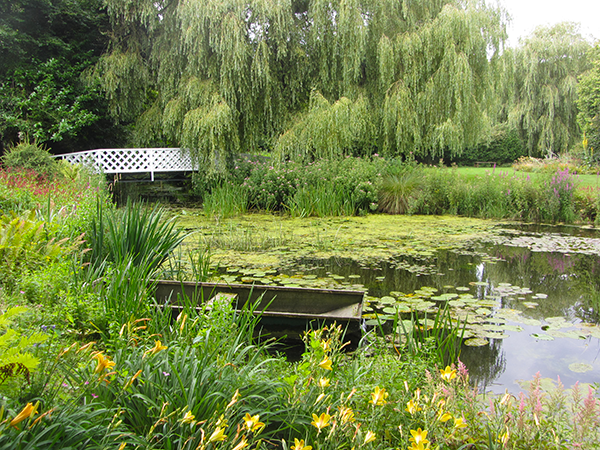 Taking a slight detour from the circular walk around the Oxborough countryside (if you choose too (see the summary of the holiday here), and another reason for having a car so you can do this in your own time), why not pop into the wonderfully peaceful Gooderstone Water Gardens. 
These 6 acre gardens have been restored by the daughter of the original owner to something that you can really enjoy. Originally the area was just a water meadow, but is now thriving with lots of waterways, bridges and nature trails; a really tranquil, beautiful and serene place to visit.  Sitting on a bench, having a rest and reflecting on life!  It's often likened to Monet's Water Garden.
Sandringham House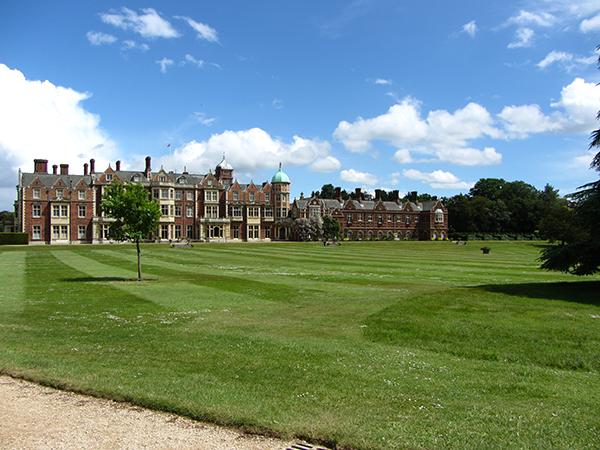 This, as you may know, is home to Her Majesty The Queen when she resides in Norfolk. 
This is a fantastic house to visit, as you really get a chance to discover exactly how informal this house appears compared to many other stately homes.   Photography of the inside of the house is forbidden, so you'll have to take it from me that it has a much more relaxed feel that you would imagine, and at the same time thoroughly intriguing!
You'll have a chance to walk around the landscaped gardens and visit the museum, and even enjoy a cup of tea in the tea rooms.  
The woods around Sandringham cover over 600 acres and the lovely circular walk that is part of this holiday will lead you through these and down into Dersingham Bog. 
Dersingham Bog and Wolferton Royal Station museum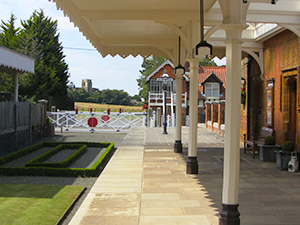 The circular walk around Sandringham and Dersingham Bog (don't worry, you won't be walking in a bog) gives you the opportunity to slightly divert and nip along to the sleepy village of Wolferton where you'll be able to drop into the Wolferton Royal Station Museum (opens at 1pm).  This was a train station once used by royalty and other important dignitaries when they were staying at Sandringham.  It's beautifully restored and certainly takes you back in time.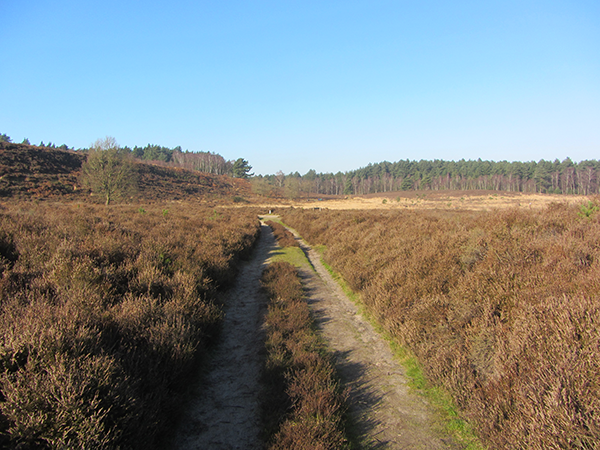 Dersingham Bog, part of the Sandringham estate, comprises heathland, woodland and mire and is a Site of Special Scientific Interest. The circular walk takes you right through the heathland, up to the cliff top where you can sit and admire the far reaching views over the surrounding landscape before continuing on your walk.  If you take this holiday in May or June, the rhododendrons around the estate are simply stunning. 
You can read the summary of the walk here.
Accommodation

The accommodation for this Ice Age to Royalty walk is lovely and varied and is of a high standard.  The first night you stay in a wonderful medieval family home dating back to the 1300's and run by Katherine, the really friendly owner who loves to cook and bake and will undoubtedly introduce you to her alpacas!  Supper is included with this stay and you can enjoy a 2 course meal taken in the wonderful Jacobean panelled dining room.  
The second night you will be staying in a recently renovated coaching inn.  Bright and lively, this pub is ideal for your visit to Oxburgh Hall, being literally just over the road.  
The third and fourth nights take you further up to the coast to stay in an award-winning pub just north of Sandringham with beams, pamment floors and log fires!  This will also give you the chance to visit the coast on your day of departure should you choose.
---
Next Steps!

This Ice Age to Royalty short break walking holiday really is a wonderfully varied and eventful three days where you'll end up with a sense of having spent an enjoyable and fascinating time discovering historic Norfolk whilst at the same time exploring on the countryside walks.
Let us plan this walk for you, so you can enjoy the delights of this Ice Age to royalty Walk.
All you have to do is to fill out the booking  form, or you can contact us by using the enquiry form or any of  the details below.
OR
CONTACT DETAILS:
Suzy Watson
+44 (0)7765 668188
suzy@norfolkwalkingholidays.com